As an Amazon Associate I earn from qualifying purchases. This post may contain affiliate links. See my full disclosures, Terms of Use, and privacy policies on my "privacy" page.
None of us wants to think our child could be sexually abused.
We know the possibility is real but many of us convince ourselves it will never happen in our family, dismissing the possibility and sending our kids to situations that may not be safe. Rather than taking steps to prevent child sexual abuse, we push it out of our minds.
We reason away threat – after all, kids have to go to school, it could never happen at church, and everyone else will be there.
I'm writing today to remind you — our homes are not invincible, but we can help prevent child sexual abuse.
The Danger of Child Sexual Abuse
The alarming reality is
1 in 10 children will be sexually abused before the age of 18.
Approximately 1 in 6 boys and 1 in 4 girls are sexually abused before the age of 18 (source).
Only about 38% of child victims disclose the fact that they have been sexually
abused. Some never disclose.
90% of child sexual abuse victims KNOW their abuser.
About 60% of children who are sexually abused are abused by people the family trusts.
Most sexual abuse of children occurs in a residence, typically that of the victim or perpetrator – 84% for children under age 12, and 71% for children aged 12 to 17.
Children are most vulnerable to child sexual abuse between the ages of 7 and 13 (source).
The median age for reported abuse is nine years old. However, more than 20% of children are sexually abused before the age of eight.
The younger the child victim, the more likely it is that the perpetrator is a juvenile. Juveniles are the offenders in 43% of assaults on children under age six. Of these offenders, 14% are under age 12. (Unless otherwise cited, all statistics taken from this report.)
I list these statistics not to incite fear but to encourage awareness.
Though we can't zip our kids into a protective bubble, we can take steps to prevent child sexual abuse in the lives of our kids. 
Talk with your kids about healthy sexuality. Talk early, talk often.
Teaching kids about their bodies and healthy sexuality isn't a one and done conversation. Not only are kids' bodies changing, requiring a different focus at different ages, their ability to understand and process the information changes as they grow and mature.
Some talks will be planned and intentional, and far more may come up in day to day life. Many of us grew up always feeling embarrassed to talk about our bodies or ask questions about what is and isn't normal. I don't want the same for our kids.
Talks about our bodies or sexuality don't need to be awkward, unusual, or intimidating. They can, in fact, feel normal, surprising as that might sound.
If our kids have a question about something they've overheard, experienced, or wondered about, it should be us parents they come to with questions. Imagine if when your kids have questions, asking you is their first thought rather than asking a friend or googling the answer!
Of course wanting that and doing it are different, but we can lay the groundwork now and keep the conversation open.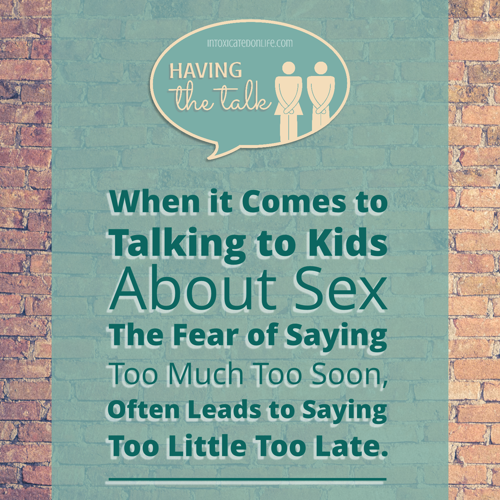 Children often keep abuse a secret. By teaching children about their bodies and talking openly about our bodies, sexuality, and boundaries, a child may feel more comfortable and will be more equipped  to tell you if something is making them uncomfortable or if something has happened.
If you're kids are older and you've never had "the talk," start now. Open up the conversation. Grab a great resource, pray, and start the dialogue. Yes, it may be embarrassing, but it will be worth it. The less awkward you are, the less awkward it will feel. Talk openly with your kids about sex so they can ask honest questions.
Teaching our kids about healthy sexuality is our job as parents. Not google. Not the health teacher. Not the best friend or her parents. It's our job. Yours and mine. Talk with your kids about healthy sexuality. Talk early, talk often.
---
Resources for talking with kids about their bodies.
How to have "the talk" with your kids.
---
Talk with your Kids about Boundaries
We teach our children to wear a helmet when riding a bike and to look both ways when they cross the road. We also need to teach our kids how to keep their bodies safe. Body boundaries give kids very clear guidelines and rules to know what is okay and what isn't.
Most children know how to respond to an unwelcome stranger, but they're uncertain what to do when a "safe" adult makes them uncomfortable. (source)

Use these resources to prepare your kids on how to respond!
We keep our boundaries clear and concise ::
No one can touch your private parts. Those are yours. (Kids understand early what their private parts are, but if there's any confusion, we say that our private parts are anything that is covered by our bathing suits.)
It's not ok for someone to show you their private parts.
It's okay to tell someone NO if they want to touch you, even if it's a grown up. (This includes hugs and handshakes — see our family guidelines below.)
We don't keep secrets about our bodies. You can tell Mom and Dad anything.
---
THIS is one of my favorite resources for teaching young kids about body boundaries and empowering them to speak up. Click here for other resources.
---
Set Family Guidelines
It kills me to know that I can't always protect my kids. As a family, we can take every preventative measure and still not guarantee nothing bad will happen to our kids. However, as a parent, I want to take every. single. precaution to reduce the risk. Next week I'll be sharing some of the boundaries our family has put in place to help safeguard our kids against sexual abuse. (Subscribe here so you don't miss the post!)
Ask Questions + Stay Informed
Parents, educate yourselves. Look up information. Read about warning signs. Check your neighborhoods.
While not comprehensive, these articles and sites are a start ::
Free websites that list sex offenders in your community ::
Ask questions of your churches, schools, sports leagues, and extra curricular clubs. How do the organizations your kids are a part of screen volunteers? What safeguards are in place? How are they working to protect your children?
If you attend church, please ask questions of your church leadership! Predators prey on religious organizations.
[Read how to prevent child abuse in the church. PLEASE SHARE THIS BLOG POST (click here to view) with your church leadership and follow up to see how the church is implementing what they've read.]
Though we can't eliminate all risk and danger to our kids, we can help prevent child sexual abuse in our homes, churches, and neighborhoods.
Let's take every precaution, seeking to protect our kids and the kids around us, and pray fervently for God's protection, deliverance, and empowerment of our kids!
This is a war; may we fight well!
Question for You :: 
How are you helping to protect your kids? Any favorite resources, talking points, or ideas?
---